Movies A-E
Movies F-M
Movies N-R
Movies S-Z
Classics
Cameos
Other
Alias List
Ripoffs
Credits/Links
Buy From:

In House:

<! ------------STARTING MAIN PAGE DATA------------ -->
Medallion, The (2003)
---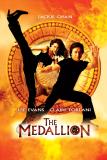 Details
Year: 2003
Opening Date: 08/22/2002 (US)
Language: English
Rating: PG-13
Directed by: Gordon Chan
Action Director: Sammo Hung
Written by: Bey Logan
Starring: Jackie Chan, Claire Forlani, Lee Evans
Notes
Was being filmed under the name "Highbinders". Written by Hong Kong expert Bey Logan.
---
Releases
The Medallion
Columbia Tri-Star

Format: DVD
Length: 88min
Rated: PG-13 [Action violence and some double entendre]
Aspect Ratio: 2.40:1 (Anamorphic) and 1.33:1
Language: English DD 5.1, French DD 5.1
Subtitles: English, French
Special Features: 15 Deleted Scenes, Audio Commentary by Producer and Editor, Theatrical Trailers

This movie can be a bit painful at times, but overall it's an enjoyable movie. It's not quite the same as old classic Jackie Chan movies, but it's better than such works as Tuxedo for example. There is an equal mix of well known actors from Europe/America, and Hong Kong. Anthony Wong is an all-time favorite of mine, even though his role here does him no justice. And it's always nice to see Christy Chung in anything, although her role is far too short. To bring the US audience there are favorites such as Claire Forlani (Mallrats) and Julian Sands (Naked Lunch).

Any Jackie Chan fan should definatly see this at least once. 7/10 stars.
---
Links

<! ------------ENDING MAIN PAGE DATA- ----------- -->