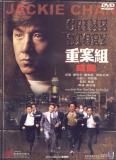 Crime Story
Mega Star Video Distribution (HK) LTD.
Format: DVD
Length: 106 minutes
Rated: Category III (R)
Aspect Ratio:
Languages: Cantonese 5.1, Mandarin 5.1
Subtitles: Chinese (Simplified and Traditional), English, Japanese, Vietnamese, Spanish
Inspector Eddie Chan (Jackie Chan) is a stressed out Hong Kong cop put to the ultimate test when he's assigned to protect a wealthy property developer. After the man is kid-napped, Chan's hunt for the gang responsible takes him from the murky back-streets of Taipei to the choppy waters of the South China Sea to a fiery showdown in the Kowloon Walled City. It's a mission that sees him face danger on both sides of the law, and one that forces Chan to put his life on the line in the name of duty.
Jackie Chan star of 'Rush Hour', and Kirk Wong, director of 'The Big Hit', join forces for an action drama that combines Chan's power-house performance with the kind of high impact stunts that have made his name