Movies A-E
Movies F-M
Movies N-R
Movies S-Z
Classics
Cameos
Other
Alias List
Ripoffs
Credits/Links
Buy From:

In House:

<! ------------STARTING MAIN PAGE DATA------------ -->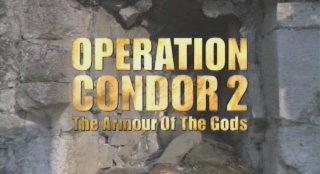 ---
Operation Condor 2: The Armour of the Gods (1986)
[aka: Armour of Gods]
Dimension Home Video

Format: Laserdisc
Length: 89 minutes
Rated: R
Aspect Ratio: 1.85:1
Extended Play (CLV) - 2 Sides
Armour of God (AOG), directed by and starring the infamous Jackie Chan, is now available for the first time in the US. Dimension Home Video has released AOG in two formats, on laserdisc and VHS. In my opinion the laserdisc is the best way to go at the moment. It is in widescreen and currently cheaper than the rental priced VHS tape.
The AOG laserdisc is presented in its original aspect ratio of 1.85:1. The picture is very clear with artifacts at a minimum throughout. When I compare this release to my old VHS import, the difference is night and day! I have never seen this movie look any better, and that is just the video portion. In my view the audio track is much stronger. Even though I wish that they had included the original audio as well, this release has been dubbed in English very well. Jackie has done his own overvoicing (dubbing). I am also impressed with the audio mix in this release. There is new music, but none out of it is out of place like rap music. For a 12 year old movie, Dimension has made it look brand new.
Jackie plays treasure hunter Asian Hawk. Like all treasure hunters, he is after artifacts to sell for money. After stealing a sword (part of the Armour of God) from some local natives, Hawk sells it at an auction. Hawk soon finds out that his ex-girlfriend (Rosamund Kwan) has been kidnaped by monks who need the Armour of God for world domniation. Hawk's friend Alan (Alan Tam) is currently dating Hawk's ex-girlfriend, and is going to go after her. Alan begs Hawk to accompany him and Hawk agrees, since he can't bear the thought of anything happening to his ex-girlfriend. Througout the rest of this adventure, Hawk encounters some evil monks and amazon women who work for the monks.
This is a great adventure movie made like only Jackie can. It includes some great stunts like a car jumping over a huge bridge and Jackie leaping off a cliff onto a hot-air ballon. Add to that a little comedy, action-adventure, Jackie-style kung fu, and you've got everything need to be a masterpiece.
This is a very nice laserdisc. I've been waiting a long time for a good copy of this movie. If you don't like subtitles this is the only way to go. If you do like subtitles and don't live in the US you have another option: AOG has been released on DVD by Media Asia. It is in Cantonese or Mandarin with several subtitles avaiable, including English. I hope Dimension also releases a US version on DVD with some extras. I really enjoyed the restored picture and excellent dubbing. Another thing that I would like to see in future releases is the original audio and the dub on one disc. I enjoy watching a movie with original audio and subtitles, while others do not. This is more suited toward a DVD release (HINT...) and would be a good selling point. I would even buy it again on DVD if this were incorporated. Of course I have a sweet spot for extra features, grin:). I am a little disappointed that there was not even a theatrical trailer included on the laserdisc, since a little more goes a long way. However, the laserdisc is still well worth the purchase.
This has long been one of my favorite Jackie Chan movies, and I'm glad to see it come to video (VHS and Laserdisc) in the US. My only complaint is that Dimension renamed it. They made it appear as a sequal, Operation Condor 2, when in fact it is not. The only thing that saves them is the word prequel on the back of the disc jacket. Even though they do try to weasle thier way out with the prequel notion, we all know that it cannot be a prequel due to the fact it was made before Operation Condor.
ACTORS
Jackie Chan:

Drunken Master (Part 1 and 2)
Police Story (Part 1, 2, 3, and 4)
Who Am I?
Thunderbolt
Project A (Part 1 and 2)

Rosamund Kwan:

Once Upon A Time In China (Part 1, 2 and 3)
Once Upon A Time In China and America
Project A II (1987)
Millionare Express (1986)

Lola Forner:
Alan Tam:

Twinkle Twinkle Lucky Star (1996)
The Age Of Miracles (1995)
Master Wong Vs. Master Wong (1993)
VILLIANS
The Evil Monk leader:
Wants to rule the world, but needs the Armour of God to do so.
The Mad Monks:
They seemingly come from everywhere. There are always more chasing Jackie.
Amazon Woman:
High heels and lightning fast teamwork give Jackie a run for his money.
ERRORS
| | |
| --- | --- |
| | This movie has at least one minor flaw, one that Dimension should have caught. Lola Forner, who also co-starred in Wheels on Meals, has been mis-credited by spelling her name wrong. Lola Forner has turned into Lola Porner. Now I know a P can look similar to a F but there is no mistaking that this is spelled wrong. Infact with the new titling this was the first thing I noticed. Luckily she did get correct billing on the laserdisc jacket. I hope that Dimension notices there mistake and fixes this for any future releases. |
| | Dimension has decided to cut a few scenes throughout this movie. While it may have been cut for pacing reasons, there was some reason it was there in the first place or it would have never been left in. As slow as it may have been it contained story line and objects that explained things better. |
All vidcaps and coverart is © Dimension Home Video <! ------------ENDING MAIN PAGE DATA- ----------- -->