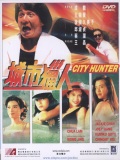 Format: DVD
Length: 98
Rated: NR
Aspect Ratio: LBX
Subtitles: Traditional Chinese, Simplified Chinese, English, Japanese, Bahasa Malaysia, Thai, Vietenamese, Spanish
Audio: Cantonese 5.1/Mandarin 5.1
Catalog: MS/DVD/062/99
Starring: Jackie Chan, Chingmy Yau
Jackie Chan is the girl-chasing detective Ryu Saeba in this hilarious live-action adaptation of the popular Japanese comic book/anime series. When Ryu is asked to track down a rich tycoon's runaway daughter, Shizuko, he ends up on a luxury cruise ship held hostage by a group of international terrorists. With a little help from his bumbling assistant, Kaori, Ryu has to save Shizuko, the wealthy passengers and more beautiful women than even he can handle!

Finally! a copy of City Hunter on DVD with Subtitles!