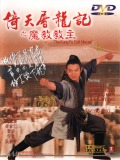 The Kung Fu Colt Master
Mei-Ah Laser Disc Co.
Format: DVD
Length: 102 minutes
Rated: CAT II
Aspect Ratio: 1.85:1
Audio Options: Dolby Digital 5.1
Language: Cantonese, Mandarin
Subtitles: Chinese and English (Non-removable, Burned in)
Region Code: 0 (ALL)
This movie is one of the funnest Jet Li movies there is, however... This movie was originally supposed to be only part of the story. The sequal that would have finished up the story does not exsist because this movie did not do well in the theaters. We are left with a great start of a film, but no real ending. Still a great movie, I recommend it!