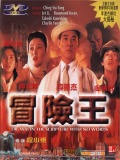 Dr. Wai and the Scripture with No Words
Mei-Ah Laser Disc Co.
Format: DVD
Length: 90 minutes
Rated: CAT IIa
Aspect Ratio: 1.85:1
Audio Options: Dolby Digital 5.1
Language: Cantonese, Mandarin
Subtitles: Chinese and English (Removable)
Region Code: 0 (ALL)

Below is the text on the case. It is only below because it is such a fine piece of literature. Enjoy the read. If you haven't seen the movie and you think it's a spoiler, you were warned, however it is on the back of the DVD... All in all a fun if silly movie!

"The Scripture With No Words" had been lost for a long time. Everybody was eager to find it, ever the ambitious Japanese. Dr. Wai was an antiquarian. Having seen the mysterious "Wooden Horse", lost control and killing people, he quit his job. However, being supported by his friend, Dr. Wai recovered and resumed his work. He went to Shanghai trying to locate "The Scripture With No Words" and he discovered that it was in the possession of Tuen Muk Ming, the leader of "Gang of Salt", who was very difficult to be located. At that moment, the spy from Japan, Tao Fei and Nei Leung also came forward for the "The Scripture With No Words". And the game begins........"